DG SANTE
European Commission
Health & Food safety
Visit online
DG SANTE is the European Commission's Directote Generale for Health & Food safety. Its digital communication consists of the main web site, the thematic web sites and the respective social media channels.
My assignment at DG SANTE consisted of revamping the 4 thematic web sites under their portfolio (Consumers - this later moved under DG Justice-, Food, Animals and Plants), while keeping the 2013 EC web template. Always keeping the EC web template, we succeeded in launching one of the first responsive EC web sites at the time. Moreover, we were one of the pilot teams to implement the process of the digital transformation in the European Commission, which led in prioritising and reducing content.
Apart from the external web sites, I managed the technical aspect of the migration of the intranet to the corporate MS SharePoint 2010 platform. My tasks consisted of running usability tests, performing interviews with users, as well as some user-flows, concerning DG-specific process; those were submitted to the central development team, together with respective proposals (UI wireframes and mock-ups).
During the entire assignment, which lasted for almost two years, I was performing webmaster tasks with the rest of the web team, as well as providing assistance to the audiovisual team on prints and video editing.
Role
UX / UI design, wireframes, prototypes, development, graphics, video editing

Consumers homepage desktop version mock-up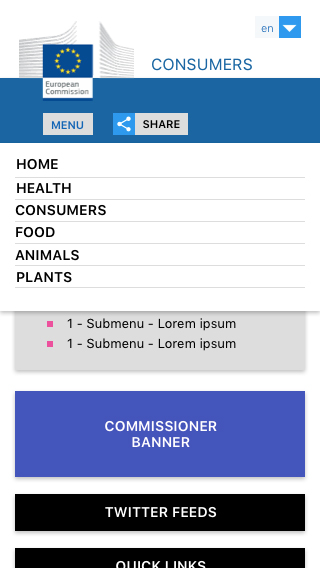 Consumers homepage mobile version mock-up / open menu



Consumers homepage mobile version mock-up