Connected Commission
European Commission internal platform
Connected Commission is a collaborative and social platform for internal use within the European Commission. It is managed by the Joint Research Centre and DG Connect, and operated through DIGIT (the Commission's IT department). Compared to the corporate intranet, this tool was more customised per Directorate General, instead of having a unified look and feel (like the SharePoint-based intranet).
My short term assignment within JRC consisted of revamping the homepage of this platform, both for desktop and mobiles, as well as designing the UI according to the European Commission's visual identity, while keeping the user and DG-oriented mentality.
Prior to the design part, I conducted some user research organising user interviews (prepared a UX analysis of the project covering the business requirements, usability and design flaws and improvements, based on my findings through user research, following best practices and taking into account technical/timeframe/budget limitations.
Role
Branding, Identity, UX / UI design

Connected Commission wireframe v.1.0
the initial idea was for users to be able to customise part of the homepage with a selection of widgets



Connected Commission desktop mock-up v.2.0
the Steering Group opted for a more standard approach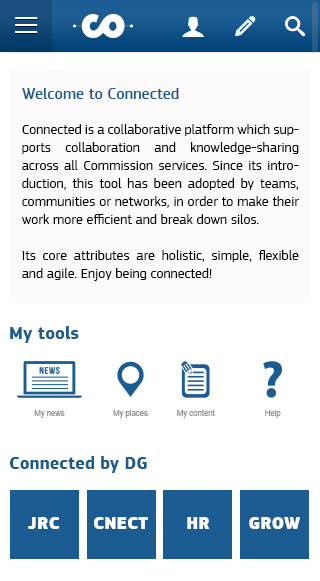 Connected Commission mobile mock-up v.2.0